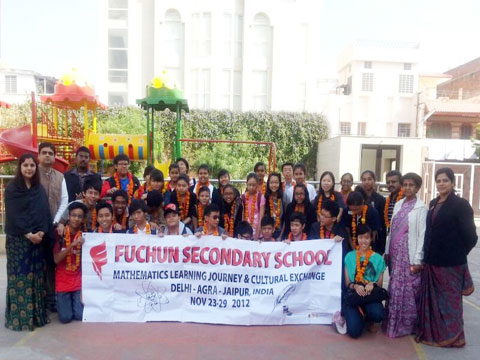 A group of 28 students and 6 Maths teachers visited St. Edmund's School, Jawahar Nagar under an Exchange Programme. Students feel highly delighted by the warm traditional welcome organized by the students and teachers of St. Edmund's.
The group took keen interest in the methods of teaching and was greatly influenced by the class room discipline maintained in the school. They highly appreciated the level of education of Indian students as compared to their level particularly the methods used for teaching Mathematics and truly agreed about the high Indian educational level of the child as compared to foreign countries and foundation of success in every field lies actually in the excellent educational system in India.They also shared their views and analysis of the Indian education system with the teachers and students and also the happiness of accomplishment of their successful Exchange programme.
Administrator Dr. (Mrs.) Pooja Singh showed hearty thanks to the guests as well as to the staff members for their active co-operation and wishes to conduct such more programmes in future.