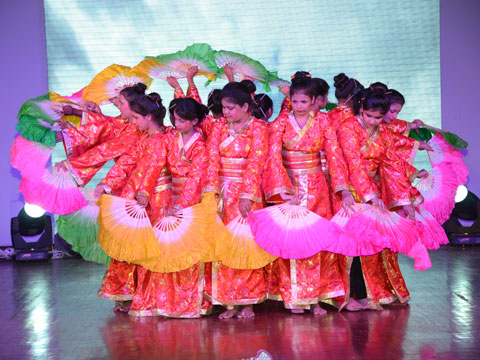 St. Edmund's School, Jawahar Nagar organized its Grand Annual Day 'Udaan' at Birla Auditorium. As the theme says 'Udaan' is a motivation which symbolizes efforts for achievement, to advance from all directions to achieve success and destination in our lives. It also symbolizes 'the flight', the flight to pinnacles of glory, success, pride, joy, independence, and love.
Sh. Suresh Chowdhary (ADGP, Traffic Rajasthan) was the Chief guest to preside the cultural evening. The Chief Guest was overwhelmed with immense pleasure by the traditional and warm welcome by the students and teachers.  The function commenced with Garlanding of Lord Ganesha, lightening up of the lamp, and paying tribute to the founder of the school, Late Shri Ranbir Singh Ji.
The event was preceded by the different dances depicting the different colors of the lives in different parts of the global world. Magic of Gypsy in Spanish dance and Hip-Hop in American dance fill the environment with great joy and enthusiasm. Terrific Jungle hunting scenes in African dance astonished the viewers whereas royalty of Early Kings was shown very gracefully in Egyptian dance.
The children heartily enjoyed the Dragon Dance performance of China. The dragon with its fierce-looking head especially symbolizes dignity, wisdom, and power in Chinese society. The program ended with the great finale presentation of the Indian Kathak dance showing the central figure of Hinduism Lord Krishna, portrayed as the supreme power and incarnation of Vishnu depicting the scene of the battlefield of 'Mahabharata'in a very beautiful and graceful manner charged with floral decoration.
The dancers truly showed the 'Generation of smiles across miles' by their splendid and colorful dance performances. They expressed their feelings as migratory birds that move around the world in search of comfort, peace, and tranquility.
The principal read the Annual Report and meritorious students of 2011-12 were awarded prizes and certificates by the Chief Guest. The achievers in different fields apart from academics were also awarded. The function ended with Aashirvachnam by the Chief Guest which really encouraged and inspired the students.